Dellta Contractors welcomes enquiries from motivated individuals with a strong work ethic for ongoing employment.
Sub contracting across the entire North Island and in Victoria, Australia; with the majority of our projects currently in the Kapiti Coast, Wellington, Bay of Plenty, and Waikato regions plus Laverton, Victoria; we are always on the lookout for experienced Steel Fixers, along with labourers who are willing to work hard and learn new skills.
Dellta Contractors Limited work with the Ministry of Social Development to conduct a practical three month onsite training programme that will increase employment opportunities across New Zealand in the Steel Fixing Industry.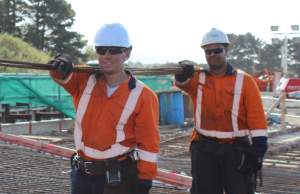 Key attributes we look for in potential employees are:
Hard workers who are physically fit for the job
Previous experience and knowledge of the steel fixing task preferred, although training will be provided to reach our standards
Own transport and appropriate licence to get to various work sites for an early start
Preference will be given to applicants with Site Safe passport, ConstructSAFE and/or First Aid certification
Must be able to meet all pre-employment alcohol and drug test requirements ie: provide a negative result (along with the ability to pass random testing when required)
In the first instance, supply a CV along with a cover letter outlining any relevant qualifications and experience to admin@dellta.co.nz or alternatively contact your WINZ Case Worker to see if you qualify for employment under our newly established training partnership.
Apply Online to a Steel Fixing Position