Dellta Contractors Limited is committed to training locals for steel fixing industry.
Dellta Contractors have been working closely with the Ministry of Social Development to provide jobs and training in the industry for unemployed persons with aptitude and potential for the steel fixing task.
With a current shortage of experienced steel fixers across New Zealand, we have seized the opportunity to provide trainees with the experience and knowledge to achieve in this vital industry.
During the three-month on-the-job training programme, successful candidates begin as steel fixing labourers and, by gaining practical onsite skills and knowledge, advance to become experienced steel fixers.
Comprehensive training, both in steel fixing tasks and in Health and Safety on a large construction project, includes completing First Aid training and the opportunity to earn Site Safe passports and ConstructSAFE at an entry level - all invaluable assets in the construction employment market.
Dellta Contractors Limited along with our Labour Hire company, Dellta Academy Limited; are members of He Waka Eka Noa and are committed to the ongoing employment of both experienced and trainee Steel Fixers and Construction Labourers in the New Zealand market.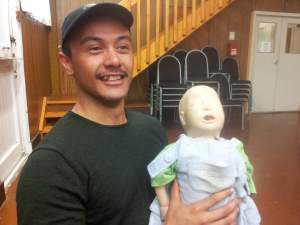 We identify employers who are prepared to provide extra support for new staff coming off a benefit. Dellta are really invested in their staff. They are a company with real family values. We were confident from the start that our clients would be set up to succeed if they joined Dellta.
Mark and Cherie Hammond know they are taking on people who need support to break through the barriers to becoming independent. They have demonstrated they genuinely care for their staff and they believe in 'second chances'. Not all employers are prepared to work so closely with their employees to make sure they succeed and enjoy their work.
Marian Walker - Work Broker
Ministry of Social Development
Interested in training to become a Steel Fixer?
We currently have the ability to take up to two trainees in both the Kapiti Coast/Wellington region and Hamilton regions. If you are currently registered with Work and Income and feel that this opportunity would be of interest to you, please contact your Work and Income Case Worker or Work Broker in the first instance.